Wireless Control
The Raptor's Wireless Control System is a high-quality and reliable way to control your machine safely and efficiently. The rugged controller has several great features including motor on/off, torque up/down, speed up/down, forward/reverse, and an emergency stop button. The wireless control's receiver is permanently mounted onboard the Raptor's chassis and is safely stowed inside the protective housing. This commercial-grade technology is used on many modern cranes, boom trucks, and other heavy equipment. It will provide reliable control even when far from the machine. The wireless control can be attached to the included wireless foot pedal to allow for on and off control at the user's preference. The controller is rechargeable and will easily last an entire workday or more with a fully charged battery. Includes wall and 12v car adapters for recharging between jobs or while on-site if needed.  
Interchangeable Cable Reel With QuickFit® Technology
The Raptors QuickFit reel system allows for up to 3 different interchangeable cable sizes. This means you only need ONE machine for 3 different cable sizes. 100ft/30M x 8mm 1/3", 100ft x 10mm 3/8", and 75ft x 12mm 1/2" can all be added to the same chassis as needed. The patented design allows for quick and easy work between various-size pipes, and no tools are needed for a quick change. The cable feed can be located on top or bottom and left or right by simply turning the cable feed bracket. Work smarter by transporting the reel and chassis separately. This cuts down weight when loading in and out of a truck or up and down stairs. Quickly attach the reel when positioned at the work area. It's as easy as that.
Dedicated to Safety
The Raptor has a dedicated electric motor with Smart Drive technology providing clean consistent power to the flexible shaft and tools. Safety features are fully integrated into the brains of this machine to help prevent over-torquing of the cable. Live monitoring of power requirements during operation will activate the E-Clutch if the tools become stuck or cannot rotate. This electronic clutch will protect the end user, machine, tools, and pipe integrity. After engaging there is ZERO delay in work, simply reposition the tools and restart the machine.
Lightweight and Portable
The Raptor is very lightweight weighing in at just 125 lbs. Large wheels allow for easy transportation over nearly any terrain as well as up and down stairs with ease. The narrow design easily fits through doorways without the need to turn the machine sideways. The rugged anti-vibration pads allow the machine to be laid down level with no risk of movement or sliding around during operation. This also allows the machine to stand up straight when in a vertical position. The heavy-duty rubber pads can be easily replaced if ever needed.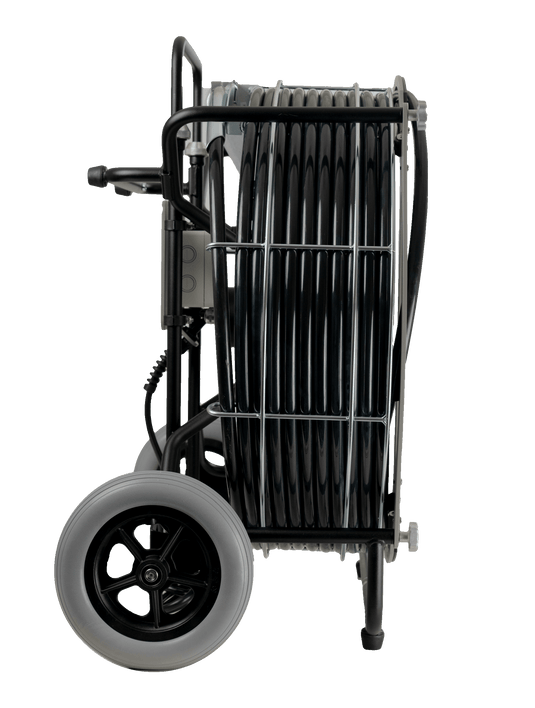 1-Year Warranty
Chassis and Mechanical Components
6-Month Warranty
All Electrical Components
Quick Service
Multiple Service Locations across the USA.
GET IN TOUCH!
Have questions about a product or need support? Give us a call or fill out the form below! We'd love to help!
888.258.9359